Interactive Awareness Session Held on World Hepatitis Day
The Office of Human Resources, in collaboration with Campus Health, organised an interactive awareness session to observe World Hepatitis Day on Tuesday, August 1, 2023. The session focused on the theme for 2023, "We're Not Waiting," aiming to raise awareness about the symptoms, transmission, and preventive measures for various types of hepatitis. 
The session commenced with opening remarks by Mr. Tariq Sheikh, Director Campus Health, who shared the LUMS' vision for initiating health programmes in the upcoming year. Guest speaker, Dr. Muhammad Asif Gul, gastroenterologist and hepatologist from Farooq Hospital, delivered a comprehensive overview of the different types of hepatitis, emphasising the paramount importance of vaccination as a preventive measure. He presented compelling statistics, revealing that a staggering 4.55 million individuals suffer from Hepatitis B Virus (HBV) and an alarming 8.74 million from Hepatitis C Virus (HCV) in Pakistan.
During the discussion, participants learned about the distinct symptoms of each type of hepatitis and gained insights into the potential sources of transmission, such as the reuse of contaminated toolkits. Dr. Gul addressed preventive measures, including maintaining personal hygiene, using new and sterile syringes, and opting for boiled water to safeguard against infection.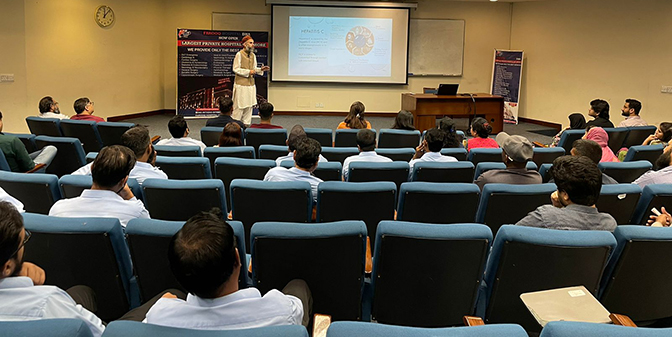 The interactive forum encouraged active participation from the LUMS community, as they posed questions and sought clarifications on hepatitis-related concerns. The engaging exchange of information further deepened the understanding of this critical health issue.
As a gesture of appreciation for Dr. Gul's informative effort, Mr. Faisal Kheiri, Director HR, presented him with a token of gratitude. The session concluded on a positive note, with attendees being offered the opportunity to undergo hepatitis B and C tests on the day at discounted rates, courtesy of Excel Lab. Through this session and test facility, LUMS reaffirmed its commitment to community well-being and empowerment through knowledge and health education.