Islamabad and KP Alumni Community Celebrate Annual Reunion
On the evening of Friday, June 9, 2023, LUMS hosted a group of enthusiastic alumni at the annual Islamabad and KP Alumni Reunion dinner at Serena Hotel, Islamabad. The evening presented itself as a wonderful opportunity for the alumni community residing in Islamabad and KP to come together with the LUMS leadership and catch up. After a warm welcome, the Director of Advancement, Nuzhat Kamran, took the stage to share her thoughts on the need for the alumni community to unite and give back to their alma mater. 
The highlight of the evening was bidding farewell to the old Islamabad Alumni Working Group and welcoming the new cohort by introducing them to the community on stage. The members of the new Islamabad Alumni Working Group are Haider Rafiq (MBA 1994), Amir Mahmood Islam (EMBA 2005), Saud Mukhtar (MBA 2007), Mehvish Muneera Ismail (BA-LLB 2008), Ahmad Saffee (BSc 2011), Mahmood Shamsher Ali (EMBA 2013), Muhammad Yahya Javed Bajwa (BSc 2014), Myrah Nerine Butt (BSc 2014), Ali Hassan (BSc 2017), and Amna Afzal (BSc 2020). 

On behalf of the new cohort, Ismail took to the podium and expressed a commitment to strengthen engagement amongst the city's alumni and work together towards the advancement of LUMS. Newly elected KP Alumni Chapter ambassadors also took the opportunity to thank LUMS for prioritising alumni participation and bringing the community together.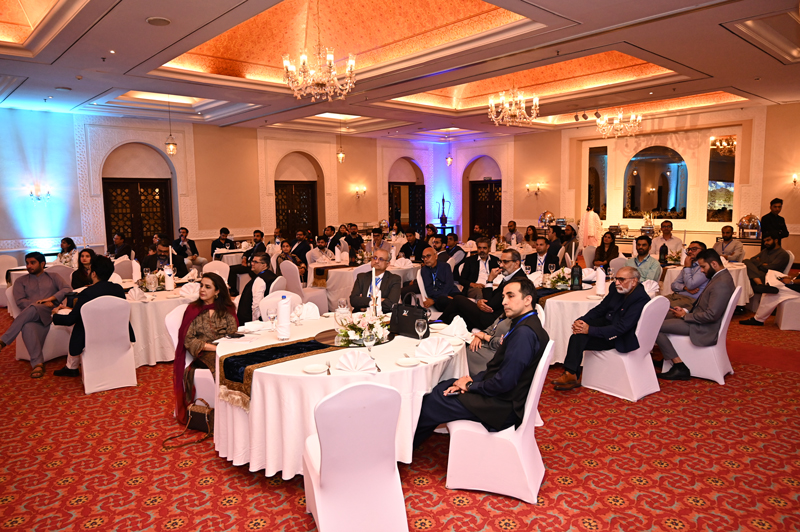 LUMS Vice Chancellor, Dr. Arshad Ahmad delivered a brief address where he thanked the alumni for supporting LUMS in its manifold efforts and for taking the time out to be present at the dinner. He also expressed special gratitude to the Islamabad and KP community for coming full circle with him in this journey, as their annual reunion was the first alumni event he attended in 2018 with this being the last. 
An interactive trivia game titled 'How Well Do You Know LUMS?' followed where alumni got the chance to interact and enjoy themselves while getting the chance to win exciting LUMS merchandise. The evening ended with the gathering enjoying a lovely dinner over some enlightening conversations.