Exercising the Mind with Chess
'Learning the Queen's Gambit – Quest for Victory', an extraordinary initiative by the LUMS Students Mathematical Society and LUMS Math Circles, took place on June 20, to ignite a passion for chess among young minds and explore its fascinating connections with mathematics. 
The event commenced with a captivating journey through the rich history of chess, tracing its origins back to ancient India and its subsequent evolution across cultures and centuries. Furthermore, participants were enthralled as they discovered the game's deep-rooted cultural significance and its enduring appeal to players worldwide.
The organisers then delved into the riveting relationship between chess and mathematics. The attendees were introduced to Emanuel Lasker, a mathematician and the second official World Chess Champion, whose prowess in both fields left an indelible mark on history. The participants marveled at the strategic thinking and decision-making inherent in chess, recognising the profound influence of mathematics on this intellectually stimulating game. Notably, they also learned that even renowned physicist Albert Einstein was an avid chess enthusiast, further emphasising the game's interesting connection with mathematics.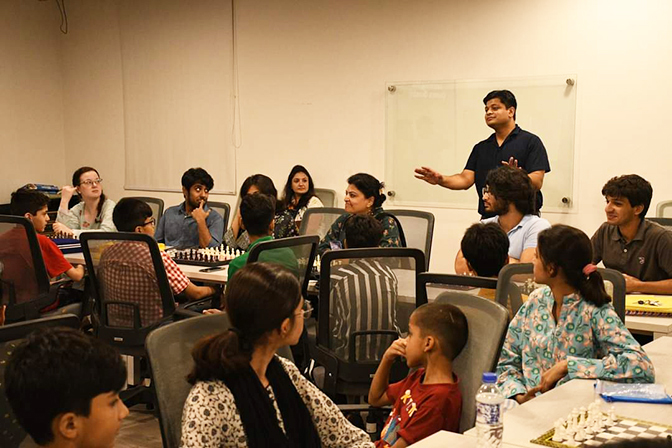 The young participants were guided through the fundamental moves and rules of chess by dedicated 'grandmaster' volunteers. These professionals patiently mentored each child, providing valuable insights and pointing out potential mistakes among participant's techniques before engaging in real matches. The children rapidly grasped the complexities of chess, showcasing remarkable skill and efficiency in their gameplay.

The event also incorporated an assortment of chess puzzles, adding an extra element of excitement and challenge for the participants. However, the children eagerly embraced these puzzles, utilising their critical thinking abilities to solve the mind-bending chess conundrums presented to them.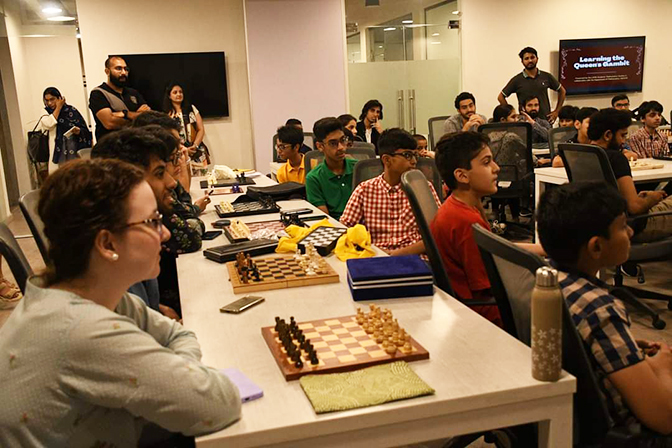 A major highlight of the event was the exploration of the famous 'Queen's Gambit' strategy. The attendees were introduced to this fascinating opening move; involving the sacrifice of a pawn to gain a strategic advantage. The children were captivated by the elegance and intricacy of the Queen's Gambit, absorbing the wisdom shared by the organisers with enthusiasm.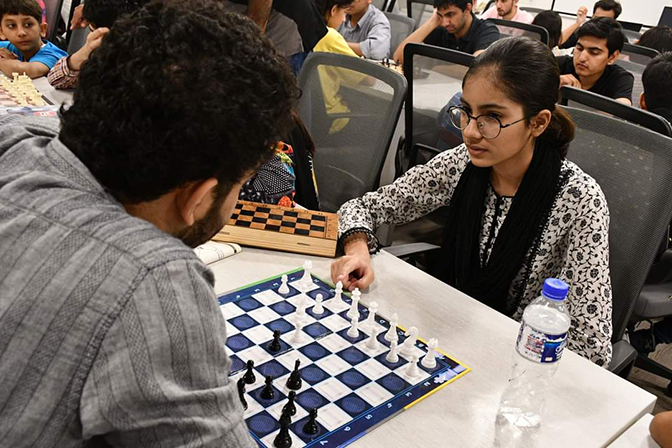 The event is a testament to the power of education, excitement, and the pursuit of knowledge. It showcases the remarkable impact of combining diverse disciplines in creating unforgettable experiences for young learners. We extend our heartfelt appreciation to the LUMS Students Mathematical Society and LUMS Math Circles for organising such a remarkable event and to the grandmaster volunteers for their invaluable mentorship.

Stay tuned for more exciting updates from LUMS Math Circles as we continue to empower young minds through innovative and inspiring initiatives.